This year, the 30-year fixed mortgage rate has been hovering between 6% and 7%. If you're uncertain about whether purchasing a home is the right decision for you, it's important to understand how even a minor shift in mortgage rates can impact your ability to purchase a property. To put it into perspective, for example, a 1% increase in the mortgage rate means that you can afford approximately 10% less than what you could have before. On the other hand, if the mortgage rate decreases by 0.5%, this would result in an extra 5% in buying power.

The chart below provides an illustrative example of the correlation between mortgage rates and a typical monthly mortgage payment.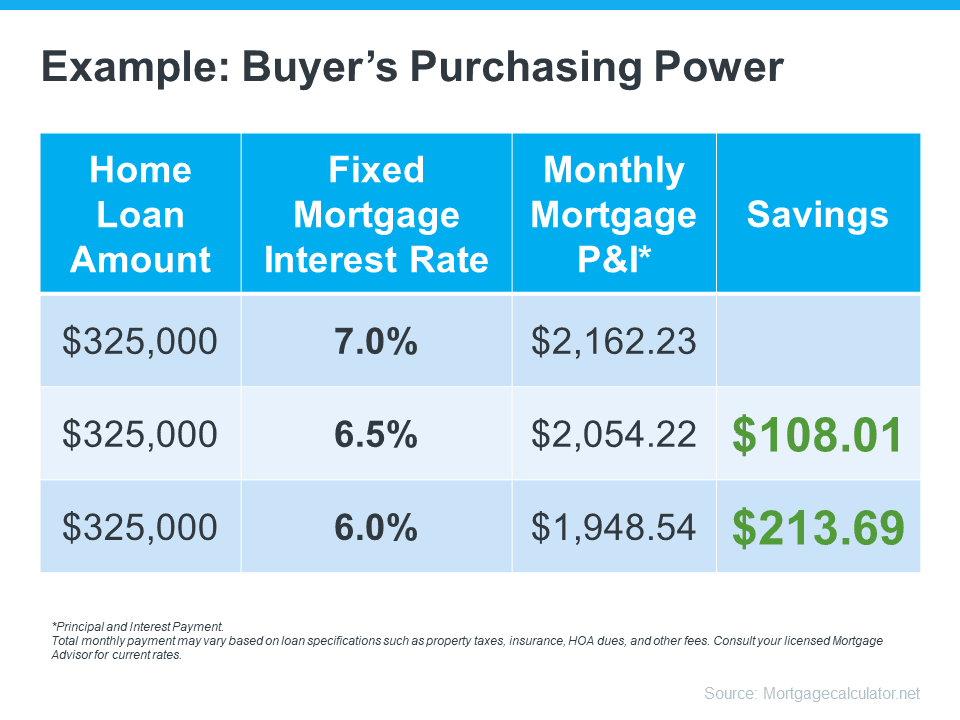 When rates drop, even a small decrease of 0.5% can make a significant difference in how much you pay each month. Currently, mortgage rates have been fluctuating between 6% and 7%, which has an immense effect on your budgeting ability. As rates decrease, the amount of money you are able to spend per month increases due to lower interest expenses. This means that those purchasing a home or refinancing their current mortgage will be able to stretch their savings further and acquire more financial freedom then before.

You might be inclined to delay your home purchase in anticipation of lower mortgage rates, yet this could be a risky move. It is challenging to predict where interest rates are going to go, so attempting to anticipate them for personal gain is not recommended. Lisa Sturtevant, a Housing Economist at Bright MLS, highlights the fact that fluctuations in rates can have serious effects on buyers' monthly payments: "It is generally reckless for potential homeowners to try and time the market's mortgage rates... Nonetheless, variations in mortgage interest right now can have tangible influences on the amount purchasers pay each month."

It is vital to consult experienced real estate professionals to explore the available mortgage options, comprehend the influence of mortgage rates, and create a budget for house-buying considering the current market volatility. Furthermore, they can give advice tailored to individual needs and objectives, arming you with the data needed to make a wise decision.

Taking proactive steps to prepare for shifting mortgage rates is essential when it comes to the process of buying a home. Knowledge about these economic variables will give you some peace of mind and help you make informed decisions that are right for your current situation. With the right strategy, it is possible to protect yourself from volatility in the market and secure a property that suits your needs. Plus, if you can take advantage of lower mortgage rates, you may even be able to save money down the road. Ultimately, if you're considering taking on homeownership, it pays to have an expert on your side so there are no surprises along the way. So don't hesitate – contact us today and let's discuss how we can help craft a plan best suited for you.