The housing market has seen a slight decrease in activity since this time last year, but buyers are still keen to get their hands on a property. According to the U.S. News, there is still an evident demand for homes because of the current shortage of available properties. As a result, potential homeowners are eager to take advantage of these opportunities while they exist. In particular, those looking to capitalize on low mortgage rates and other attractive financing options are particularly motivated to act quickly before conditions change again. This has led many to start actively searching for their dream homes with increased urgency in order to find and secure the right house for them in the near future.

The latest ShowingTime Showing Index, which is a metric used to measure the number of buyers engaging in active home showings, has seen a considerable increase. This surge in activity can be seen in the graph below. Analyzing the growth of this index provides insight into the current real estate market, indicating that more and more individuals have become interested in seeking out their ideal home. As such, it appears that the demand for residential properties is on the rise - something that all those involved in buying, selling and mortgaging houses should pay special attention to.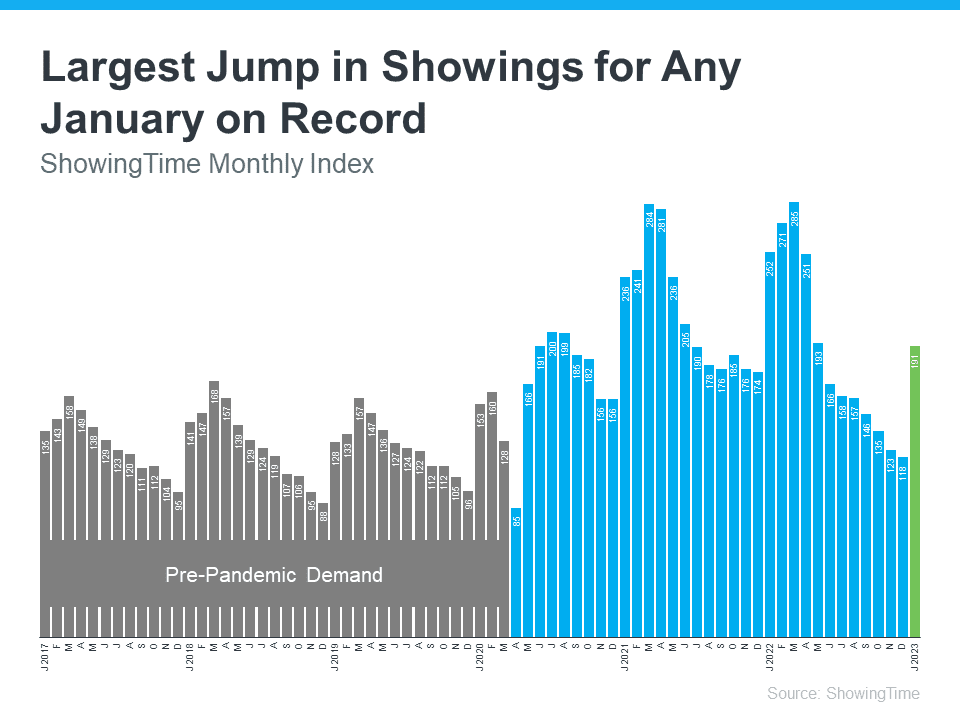 The dramatic 62% increase in showings from December to January is one of the most notable on record. In fact, last month saw more showings than any other month since May 2020. As illustrated in the graph, it is common for showings to rise during the start of the year, however, this particular January saw an unusually large jump that is largely attributed to mortgage rates. According to Michael Lane, VP of Sales and Industry at ShowingTime+, this immense growth can be attributed to a variety of factors such as favorable financing options and buyer confidence in the market.

"At the start of this year, we have seen a greater level of home showings than in any January before, which suggests that buyers are beginning to ready themselves for the upcoming spring housing market. This is especially remarkable following last year's sudden slump in sales activity. The mortgage rate climate throughout this spring will undoubtedly be a critical factor in driving sales, but the fact that buyers are already taking an active interest in viewing properties is a strong indication that they have faith in the market" he added.

In January, mortgage rates were at an all-time low of 6%, which led to a noticeable spike in home showings. Lower mortgage rates are obviously attractive to potential buyers, encouraging them to make the move sooner rather than later. This influx of interested consumers indicates that although the current mortgage rate landscape is uncertain, individuals are still willing to take advantage of favorable opportunities when presented with them. So whether or not these low interest rates persist, it appears that there is a healthy level of buyer demand in today's market.

It looks like the housing market is off to a strong start in January, with many prospective buyers actively seeking out homes for sale. If you're considering putting your house on the market, now may be the ideal time – let's chat soon so we can make sure you get the best possible outcome when the time comes. We have an abundance of resources at our fingertips that can help you maximize exposure and get top dollar for your home. With our expertise, we'll ensure you get the most out of this dynamic real estate landscape!