Even though the activity in the housing market has significantly decreased from its peak that was experienced over a year ago, the existing supply of homes for sale today is still very much in favor of the sellers. In other words, this is a sellers' market. But what does this mean and why are conditions so beneficial for those looking to list their house?

The most recent Existing Home Sales Report from the National Association of Realtors (NAR) has determined that housing supply is uncomfortably low with only 2.6 months worth of homes available if we look at current sales pace. This quantity ultimately falls short of what experts deem necessary in order to create a 'normal' or 'neutral' market which requires enough properties to be actively sought after by potential buyers (as seen in the graph below):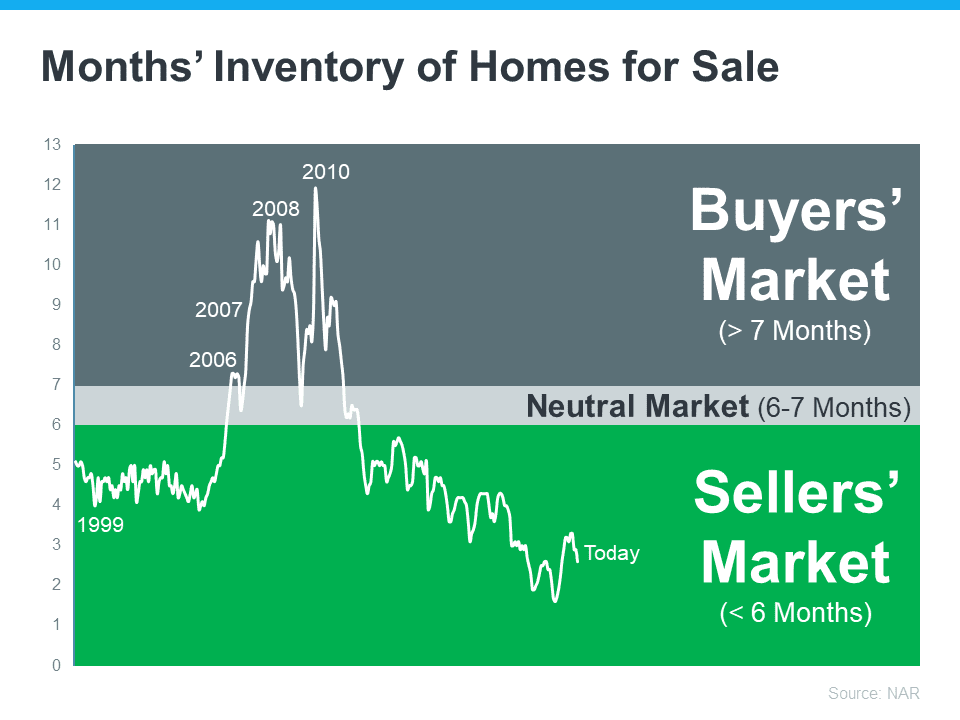 When the number of homes for sale on the current market is significantly dwindling, it becomes much more difficult for buyers to find an appropriate property. In this context, potential buyers become increasingly aggressive in order to outbid their competition, pushing prices up in the process. Knowing they are not alone in their pursuit of a desirable house, these house hunters are likely to submit an offer which is very attractive to owners and as a result sellers will be in a good position to make deals that meet their desired terms. According to Lawrence Yun, Chief Economist at NAR (National Association of Realtors), "inventory levels remain near record-setting lows and this has resulted in numerous properties receiving multiple offers". It is evident that even with less selection available for buyers, competition continues to be high and drives promising outcomes for sellers.

Despite the current economic uncertainty, there are still prospective homebuyers who have the ability and enthusiasm to purchase a property. If you choose to put your house on the market at a competitive price and in an attractive condition, it could draw considerable attention from interested buyers. By providing more details about the residence and including words that bring it to life (semantic richness), you can further pique the interest of potential buyers.

Selling a property in the current market is an advantageous choice for homeowners eager to make a transition. Listing your residence will essentially open up your listing to numerous capable buyers who are in the market for a new home. Get in touch with us and we can discuss how to kick off the selling process quickly and conveniently. A vast amount of facts and details need to be taken into account when selling a house, from pricing strategies, staging, marketing and more. We are here to provide guidance throughout the entire process so you don't have to worry about anything; just let us take care of it!